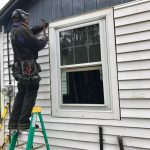 The same house as the Trusses in Place project, required new windows. The new kitchen window was  a replacement window used to replace one that was too wide for the new cabinets. It offered an extra challenge because it was intended to be installed in an existing window casing. Though it was a perfect match with the other replacement windows that were installed some time ago to upgrade the insulation value of the house, it proved to be a challenge because I was installing it in a rough opening instead of a window casing.
A new window for the dining room was easier as it had flanges but still there required many cuts to first enlarge an existing opening, reframe the rough opening and then cut back two siding layers to accommodate the exterior window trim. Extra precaution had to be made not to crack the vinyl siding that would eventually meet the trim in a J channel.
The third window was easiest as it was a new window where there had been none. What a difference it made lighting up that corner of the living room!